Aracely Salazar
Biography
When I was just a little girl, I grew up surround by little animals, chickens, mice, cockroaches, frogs, and crickets jumping all over in our ranch, but they were the only friends I had to play with. We were so poor, we had nothing to eat nor clothes to wear.
We were captured and not allowed to go anywhere. We lived in the dark because we had no electricity, in a sad house with no childhood, we only had to clean the little room we had at the ranch where we lived at.
Books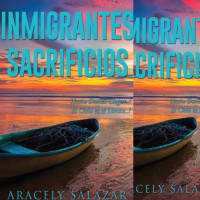 INMIGRANTES SACRIFICIOS
by

Aracely Salazar
Price:
$13.49 USD.
Words: 31,140.
Language: Spanish.
Published: September 29, 2018
. Categories:
Screenplays
»
Biographical
Para mi haber escrito este libro fue maravilloso y extraordinario. Por muchas razone. En este libro pude expresar mis verdaderos sentimientos y mis experiencias, pude contar que descubrí parte de mi destino en otros horizontes. Para me fue inesperada mi vida. Fue como nadar en el mar sin saber lo que me esperaba. Quiero enviar mi mensaje a todos aquellos sin la menor idea de lo que se vive como in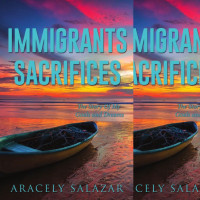 IMMIGRANTS SACRIFICES
by

Aracely Salazar
To me writing this book was wonderful and extraordinary experience for many reasons; in this book, I was able to express my true feelings and my experiences, I could tell that I discovered part of my destiny in other horizons, which for me was unexpected because my life was like swimming in the sea without knowing what was waiting for me.
Aracely Salazar's tag cloud