John Arcane
Biography
I had been searching for 'something' to change my life. My search hastened when after open heart surgery I lost the job I had for many years. I was too old to start over I began to gather in a somewhat scattered life. Having been down the self help aisle many times and with a shelf full of the best authors of our time, I turned to the thoughts and ideas of the late 1800's and early 1900's and the 'New thought philosophy'. The ideas are the ones talked about today, but the originals seemed more in depth and thought provoking. I read countless books, researched any author of that era that I could, each leading to a new way of looking at personal responsibility, each author having a different approach but landing at the same place. There are no right answers or methods, but the authors all agree the first change has to be, personal responsibility, the change from within. There are many approaches, old and new, to discover that 'Something' within, the search has its roots deep in the soul of man and has its own reward. Your search can be your reward, new ideas, new goals and a new you. Everything changed when I did.
Books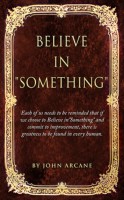 Believe in Something
by

John Arcane
(5.00 from 2 reviews)
How 'that something' can change your life.Find out what drove one man to the top of the company and to accomplish things others thought impossible? Find the spirit within to gain the self confidence to do things you may think impossible? This story has helped thousands of people to find those answers, it's the story of one man's search in what some thought an impossible time.
John Arcane's tag cloud