Caroline Galwey
Biography
Caroline Galwey is a historian and a stickler for accuracy. She needs to write fiction to use up the ideas that are too outrageous, speculative or romantic to put into her academic work – which is mostly about early medieval Brittany.

She lives just outside the M25 with her husband, children (when they're there) and two goldfish, and loves choral singing, cooking, Cornwall, and central Europe.

Scarlet Day is her first free-standing novel. Anyone who has ever sat in a hushed, tranquil library and wondered whether there might be sinister goings-on behind the 'Staff Only' doors will know where this story comes from.
Books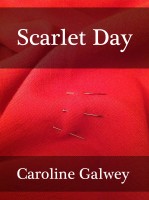 Scarlet Day
by

Caroline Galwey
Cambridge, 1985. Graham Dowland, paranoid pedant par excellence, is searching for a priceless lost manuscript. Investigating a murder seems like a dangerous distraction. But perhaps the two are connected. Will Graham discover the truth before the Fenland floodwaters rise too far?
Caroline Galwey's tag cloud