Jessica Friedlander
Biography
I am a big science fiction and fantasy fan. The quality and supple dexterity of language use being key in addition to a compelling narative. As for me, I have written a bit over the years, mostly empassioned letters to the editor and occaisionally stories for my own interest and enjoyment while under the spell of an idea. You can find me on facebook if you want to comment. I welcome constructive criticism. However, if you be a troll, be an articulate troll who can exchange ideas. Thanks.
Books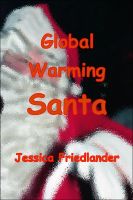 Global Warming Santa
by

Jessica Friedlander
This darkly amusing short story imagines how Santa Claus deals with the very real and serious issue of global warming. It does dip a toe into adult themes and may not be suitable for small children. It is for mature readers.
Jessica Friedlander's tag cloud