Arthur Phillips
Biography
When it comes to the elliptical machine, Arthur Phillips can tell you a thing or two about them. He can rank them from best to worst and also explain the overall benefits that come with each. To him it is all pretty simple now as he has the necessary information after doing the necessary research and trying out a few machines himself.

He has no problem stating that he was not that much into exercise but when it became a matter of doing it to stay alive; he had to decide what sort of exercise would suit him best. He settled on the elliptical machine as he found it to be something that he could follow through on.

Arthur advises his readers on what exactly the elliptical machine is and then goes into further information to outline the features of the best machine out there and how to not only select the best machine but how to maintain it effectively as well.
Books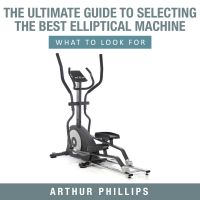 The Ultimate Guide To Selecting The Best Elliptical Machine What To Look For
It may be that you hate to exercise but due to health reasons have to do it or that you are searching for a machine that can give you a full body workout without all the fuss.
Arthur Phillips's tag cloud