Arwyn Daemyir
Biography
Arwyn Daemyir earned international notoriety and frequent acclaim with her blog Raising My Boychick, which chronicled her life and thoughts around gender, parenting, and kyriarchy from 2009-2012. She originated and popularized the concept of Gender Diverse Parenting, that is, raising children while keeping in mind their potential trans-ness. Her writing has appeared in Supporting Transgender and Gender Creative Youth: Schools, Families, and Communities in Action, The Good Mother Myth, Bitch Media, Global Comment, SuperInteresante, and others. She is a licensed massage therapist and owner of Holding Space Massage, specializing in body positive massage for fat, trans, queer, and/or young people. She lives and parents in Portland, Oregon, USA.
Where to find Arwyn Daemyir online
Books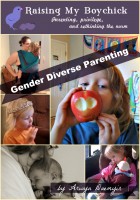 Gender Diverse Parenting: A Raising My Boychick Collection
by

Arwyn Daemyir
Arwyn Daemyir eloquently and persuasively presents the whys and hows of parenting with gender diversity in this collection of highly praised essays. Make sure all your children, especially those who may later reveal themselves to be lesbian, gay, bisexual and/or transgender, are secure and confident in themselves, their gender, and your love and support for them.
Arwyn Daemyir's tag cloud