Ashley Hargrave
Biography
Ashley Hargrave is the pen name of a lawyer and published academic writer who studied at Durham, Exeter, Warwick and De Montfort Universities in the United Kingdom.
Outside of academic work, Ashley writes high quality romantic fiction which explores the humorous and physical side of human relationships through the central character of Isabelle. However, Ashley is determined to avoid the often brutal and objectifying sexual descriptions and language common in so much of today's erotic literature. In doing so, Ashley believes Isabelle's exploits reveal a world that many of us will recognise in ourselves – a place where coping with the pressures of everyday life, and being a bit naughty at times, is just the way most of us spend our lives.
Books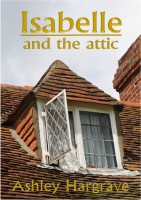 Isabelle And The Attic
by

Ashley Hargrave
This is a heart-warming story about Isabelle, a thirty-something college lecturer, whose dull life is utterly transformed by an illicit visit to the attic of her family home. There, Isabelle's curiosity leads to meeting Mark and embarking upon a romantic and spicy roller-coaster ride through the following summer - which also promises to help resolve the many mysteries of her troubled past.
Ashley Hargrave's tag cloud