Lionel Veale
Biography
Lionel was born in Armidale (country NSW in Australia ) in1918 one of four siblings. He went to school at De La Salle college in Armidale.A member of the senior cadets in Armidale he graduated to the33rd Battalion. AIF. Militia in 1936 and upon the outbreak of war enlisted with the AIF at Barraba on the 11th July.1940.For the majority of the war Lionel served as a Coastwatcher throughout Papua New Guinea and New Brittian region. At the ending of the war Lionel married his beloved wife Patricia and they moved to Southport Queensland where they set up home and raised their four children . Lionel worked for the Post master general for many years whilst developing a Home occupation of selling giftware and homewares. The business flourished and a decision to concentrate on this alone saw him move from the post office.The business took him all throughout the state as he supplied many of the outback towns where others could not service .During this period Lionel worked tirelessly and was integral in setting up St Vincent de Paul's programs on the Gold Coast for helping the poor and homeless and developing an aged care facility. Outside of these activities Lionel was active in the local RSL branch in Southport and became a foundation member of the Surfers Paradise Golf Club. Lionel for many years enjoyed membership of the Beef ,Steak and Burgundy Club where many of the meetings were enthralled by his Coastwatcher adventures. These speaking engagements were a frequent occurrence at a wide variety of community organisations and were instrumental in keeping those stories alive in his mind and enabled him to put them into print in his retirement years. Retirement brought a move into a new home and lawn bowls became a popular pastime for Lionel and Pat as well as enjoying the increasing grandchildren and great grandchildren. Unfortunately , Patricia suffered a stroke and for the next 13yrs until she finally succumbed to the illness, Lionel devoted his time to her needs at home and finally in a care facility. During this difficult period Lionel's subsequent books became a welcome distraction from the strain and lonliness of the circumstances and subsequently his three other books were published.
Where to find Lionel Veale online
Books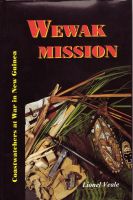 Wewak Mission
by

Lionel Veale
Lionel Veale's story of the Wewak Mission provides readers with an authentic image of the hazardous missions that were factors in every Coastwatcher party assignment as they penetrated and worked behind enemy lines, seeking vital information which ultimately played an important part in the winning of the war.
Lionel Veale's tag cloud