Alice Marks
Biography
Alice Marks, born, reared and educated in Wyoming, moved to Minnesota
with her husband and the first two of their four children. When illness prevented
Alice from continuing a career in early childhood, she began writing.
After Alice's husband retired, they moved to an island town, Port Aransas,
Texas. Alice joined a dedicated writing group and began publishing short stories and poetry in anthologies and non-fiction pieces in magazines. She published two major humor pieces on an Internet humor site, and wrote Biblical comedies that have been performed at several churches. For her extended family she has written fictionalized memoirs of their ancestors. With 104-year-old Beulah Whitehead, Alice co-authored an autobiography called Sweet Memories: Over 100 Years in the Life of a Texas Woman.
Missing their children and grandchildren, Alice and her husband returned to Minnesota. They live in Duluth with two dogs and a cat in a 1920s bungalow featuring a view of Lake Superior. Alice teaches Creative Writing, co-leaders a writing group and serves on the board of the Lake Superior Writers.
Alice is working on another suspense novel.
Books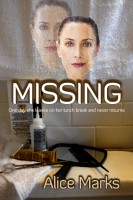 Missing
by

Alice Marks
Rhonda Collins MD is a popular physician at a Corpus Christi family clinic. One day she leaves on her lunch break and never returns. Her best friend, Linda, another physician, calls the Police Department to ask for their help in finding her, but Rhonda hasn't been missing long enough. The media learns about the missing woman and everyone in the city is caught up in the mystery.
Alice Marks' tag cloud