B. Chen
Biography
Writing is a hobby for me. I've written over eight books since I started in 2010. I like to blend genres like mixing sci-fi with mild horror, like my book Oakton. Many of my protagonists are of high school age, many of my stories take place in the era before 1995. Oakton is the only one so far I set in the near future, because trying to estimate what technology and society will be like a decade or two ahead is difficult to do, but I think I got it really close in Oakton.

One of the things I like about writing is getting to know places I've really never been to (not counting passing through on the highway, only stopping for gas) and doing research to use them in my stories. One of those places I use a lot is Amarillo, Texas. I've used locations all over Texas, Nebraska, Michigan, New Mexico, Florida, and California.

All my books are written using Word 2007 on an Asus Republic of Gamers laptop. Editing, proofreading are done with a Kindle Paperwhite and Word. My books can be found at Barnes and Noble, Apple, and Kobo.com with more stores coming.

I like to hear from readers, especially if my work touched you. Email me at bchen writeme com
I am not on Facebook, Linkedin or Twitter. If you want to 'reach out' to me, please use email, I'll write back.

Upcoming book: 'The Dig' should be released in early 2018.
Books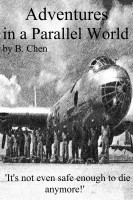 Adventures in a Parallel World
by

B. Chen
In 1973 two Texas high school teens discover out-of-body travel then discover they are no longer safe in either world. Things get out of hand.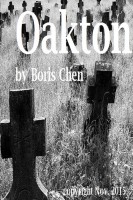 Oakton
by

B. Chen
Rural Nebraska teens battle for their lives against a band of resurrected Pawnee Warriors seeking to remove them from their sacred lands.
B. Chen's tag cloud