William D. Eatwell
William (Bill) D. Eatwell is retired with more than 40 years designing and developing over 35 products for the oil field, bio-medical, medical, and aerospace industries. He is currently researching and developing several advanced aerospace concepts under his company name Star Drive Propulsion Systems, LLC. A graduate of the University of Houston with a BS in manufacturing technology, he holds 11 U.S. patents. He is a member of the American Institute of Aeronautics and Astronautics (AIAA), The Moon Society, The Society of Petroleum Engineers (SPE), and the Society of Manufacturing Engineers (SME).
He was a private pilot for 12 years and has pursued hobbies in advanced aerospace concepts, writing, scuba diving, dirt and street motorcycles, firearms, the UFO phenomena, and maintaining his 2012 Porsche Cayenne. His military service was with the Texas Army National Guard, from which he received an honorable discharge in 1966 with the rank of staff sergeant (E-6). A longtime supporter of NASA, including friendships with several current and retired employees, he has presented his propulsion concept to NASA headquarters in Washington, D.C., and has submitted several advanced concept proposals to the Defense Advanced Research Projects Agency (DARPA) for review. He is also a supporter of ESA, the European Space Agency.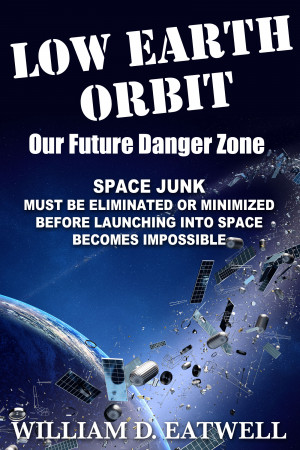 Low Earth Orbit, Our Future Danger Zone
by

William D. Eatwell
William D. Eatwell discusses the mounting and ignored dangers of unregulated launching of small satellites by technically advanced nations, and their probable future collisions with other valuable orbital assets, and the risk that they will ultimately doom manned and unmanned launch efforts, leaving LEO impassable and totally congested with dangerous space junk.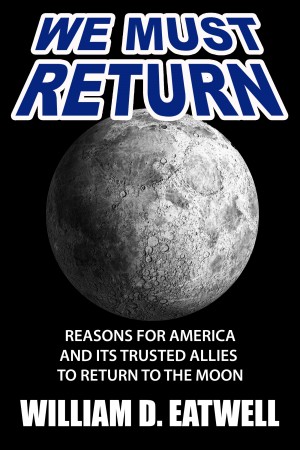 We Must Return
by

William D. Eatwell
(5.00 from 1 review)
Earth's moon is the perfect launch point for the journey to Mars and other deep space missions, argues inventor William D. Eatwell. By returning to the moon, America and its closest and trusted allies can ensure their nations' safety and that of all orbiting assets circling both the Earth and the moon.