B. E. Cullen
Biography
B. E. Cullen began her love of writing when she was eleven. Her love of writing stemmed from her love of reading whether fantastical fantasies or romance, or even works like that of Richard Adams 'Watership Down'. Opening the pages of a book or scrolling through the pages of an e-book she has oft enjoyed being absorbed into another world.

She lives in a small village in New York with her aging grandfather and a close friend along with two cats. That which besides writing and reading she loves and has loved longest would be cats (aside from her family of course) for her aunt and mother at one time or another during part of their lives in the past raised Persians, mostly Himalayans. And she will never forget the beloved Maltese, Paco whom was beloved by all who knew him.

B. E. Cullen enjoys recieving e-mail, but might not always have the time to read or reply right away.
Books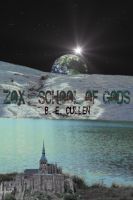 Zox: School of Gods
by

B. E. Cullen
Akuro Kikuchi finds himself in a strange place. He'd thought all magic was lost to the world, that there would never be any gods and goddesses, because they'd vanquished each other during Ragnarok, but he's soon to learn the truth.
B. E. Cullen's tag cloud