Kevin Keenan
Biography
Kevin Daniel Keenan spent the first nineteen years in a sleepy, harbor town called South Portland, Maine. He met, fell in love with, and married Barbara Jeanne Russell, two months later he was drafted into the United States Army. From country bumpkin to world traveler, he has been from Argentina to Asia. He considers his greatest achievements: Staying married to the same woman for 45 Years, (Barbara is a Saint), Fathering three children which was really fun, and watching his grand kids grow.
Where to find Kevin Keenan online
Books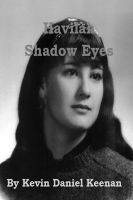 Havilah
by

Kevin Keenan
This download contains three complete books: Havilah; Beyond Havilah and ShadowEyes. It is an epic fantasy covering almost 6000 years! Keenan has woven an incredible tale of what the world may have been like before the flood and shortly after it as well as the ramifications on modern times. From angels and demons to wizards and warriors both past and present come alive.
Kevin Keenan's tag cloud