Judy Merritt
Biography
Judy Merritt, the mother of one and grandmother of three, lives in a cottage at the edge of Nevis, Minnesota. Other publications include: "Coming to the Place Where Eagles Soar," a collection of personal narratives; "Mountain Rising," a novel; and numerous magazine articles. She is the former editor of the Cass Lake Times, Cass Lake, Minnesota and the Northwoods Press, Nevis, Minnesota; and has won numerous writing awards, including three for chapters of Ghost Dancer. She has a degree in English and Sociology from Black Hills State University in Spearfish, South Dakota.
Where to buy in print
Books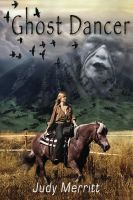 Ghost Dancer
by

Judy Merritt
Embark upon a surprising dream journey with Spotted Weasel, the spirit of a Lakota Ghost Dancer as he explores the extraordinary visions of Crazy Horse and Wovoka when he falls into trance dancing the Ghost Dance with Hanwi, the spirit of the moon as his guide. Though his dreams he also meets B.J., a woman riding her horse alone across South Dakota; and Gracie, an old woman dreaming.
Judy Merritt's tag cloud