Annette Asimai Balise
Biography
I wrote this book when my children were very young because it occurred to me that if they died, where would they go? And, while I didn't think they would be alone, they would most assuredly not know anyone. I knew my grandparents might be there, but my children came along after they had died and never had the opportunity to meet them. I imagined different stories of what might be possible...and even hopeful.
Books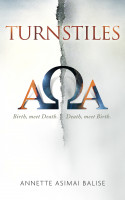 Turnstiles
by

Annette Asimai Balise
With a Divine handshake, "Birth, meet Death. Death, meet Birth." Linking the stories together is A.J. who ultimately softens the perceived line of separation at death by leading the dying into the afterlife. He offers profound possibilities of their divine turnstiles while at the same time collectively transforming any fear and pain into peace and love.
Annette Asimai Balise's tag cloud