Elizabeth KB Danese
Biography
I was blessed to have been born to my hero, my mother, Bama Katrine Brunson Danese; I am number 2, of 4 children. I have attended Catholic School, Public School, Technical School, Junior College in a 4-year Electrical Apprenticeship and like everyone else, the school of hard knocks. I have worked with an all male review (with a few exceptions) for close to 33 years. I worked 25 years at a Power Plant, then left town and country for Afghanistan, Iraq, Austria, Thailand, China, etc for wages and adventure. I am what they now call a "PLC Electricical Technician" (PLC: Programmable Logic Control) and in some cases a "Controls Engineer". When I started out there were no women in my area doing Electrical, but that would not stop me. I was the first woman in Duval and Nassau County to have an Electrical Journeyman's License in 1985. I have been happily 'paying for the story' ever since.
Where to find Elizabeth KB Danese online
Books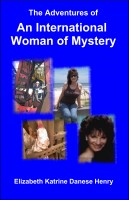 The Adventures of an International Woman of Mystery
by

Elizabeth KB Danese
In stories and poems, Eliza tells of Electrical adventures working in Afghanistan, Iraq in the Middle East, and China in the Far East. While Eliza is working hard, wandering and following stories, she is listening to the workers. Elisa remains a mystery to many of her coworkers, but shares her International story that speaks to us clearly about the theory and reality of it all in her book.
Elizabeth KB Danese's tag cloud