Barbara McGaw Gladen
Biography
Barbara McGaw Gladen was born on February 10, 1928, a cold, dark, snowy evening in Chicago, Illinois. Her parents were very creative people: her father a musician, her mother a writer. From an early age Barbara was always interested in writing, writing poems and short stories. Now at eighty, she has written her first book.

As an adult she had the opportunity to live in Alaska. It was there she learned about the Alaskan Iditarod Trail race. She admired the closeness of the people who ran the dogs and sleds in the race. The Iditarod became the backdrop for The Unbroken Bond. Barbara attended Shoreline Community College and received a Certificate of Proficiency in Accounting. She lives in Shoreline, WA, with her little companion, a teacup Chihuahua, Sweetie.
Books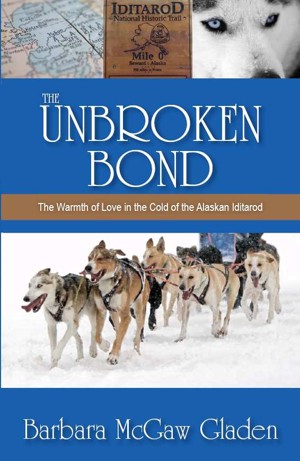 The Unbroken Bond: The Warmth of Love in the Cold of the Alaskan Iditarod
by

Barbara McGaw Gladen
Someone once said that life often comes full circle and such is the case with Starflower and Joshua in Barbara Gladen's first novel. These two unusual characters meet in a most unlikely way and find friendship and then meet…; well, you will have to read about that in The Unbroken Bond, a story of warm love discovered in the cold of the Alaskan Iditarod, set in the winter of the late 1960s.
Barbara McGaw Gladen's tag cloud