Ronald Patterson
Biography
I am the dictionary definition of a late-bloomer. I learned how to ride a bike, rollerskate, and swim at nine; had my first girlfriend in the eleventh grade; earned a bachlor's degree at 42; and finally finished 'that book thing' in my fifties.

A true child of suburbia, I grew up in the 'Inland Empire" of Southern California, and watched with sadness as the orange groves and vineyards gave way to housing subdivisions. I met my wife, Mary, at California Baptist College, and nothing has been boring ever since.

Mary and I have a son, and a daughter who has given us four enormous grandsons.

Mary and I serve the Lord Jesus as worship team leaders.
Videos
The Ballad of Penumbria I: A King's Ransom
A King's Ransom is the first volume in the epic medieval fantasy epic, THE BALLAD OF PENUMBRIA.
Books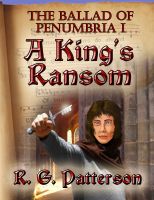 The Ballad of Penumbria I: A King's Ransom
by

Ronald Patterson
The kingdom of Penumbria is a hopeless land, where every citizen is a slave, and the regent, Duke Botewulf Blagden, rules with unpredictable cruelty. A young serf-turned-thief named Dava finally despairs of life and seeks to end his misery in the sterile desert of the Endless Emptiness. But a seeming chance encounter with three strange travelers sets him on a path from the gutter to the throne.
Ronald Patterson's tag cloud