Barna William Donovan
Biography
Barna William Donovan, a professor of communication and media studies, is a graduate of the film school of the University of Miami and he earned his Ph.D. from Rutgers University. His books on film and fandom include "The Asian Influence on Hollywood Action Films," "Blood, Guns and Testosterone: Action Films, Audiences, and a Thirst for Violence," and "Conspiracy Films: A Tour of Dark Places in the American Conscious." His commentaries on film, television, and popular culture have been quoted in media like the BBC, Variety, LiveScience, Forbes, Yahoo News, HLNTV, and various publications from Europe to Latin America.
Books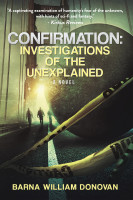 Confirmation Investigations of the Unexplained
by

Barna William Donovan
In Mount Shasta City, California. In New Jersey. In San Diego. Then in Scotland, in Italy, and Cairo. In dozens of locations around the world, 20-ton granite globes suddenly appear. They usually turn up overnight, sometimes in remote locations and other times in the middle of cities in places no one could have put them without detection.
Barna William Donovan's tag cloud