Barry Soden
Biography
I'm a retired engineer and scientist. I live in Eastbourne, UK, with my wife, the wonderful Jean. I have two beautiful and loving daughters, Rachel and Philippa. Their mother died from Multiple Sclerosis in2003. I was born in Birmingham, UK, In 1936 and I survived my childhood by the skin of my teeth, being pulled from the wreckage of our home after a German bomb hit, during the Blitz on Birmingham. I am a Chartered Engineer, though I don't practice any more, and I worked for a time as a support scientist assisting in the design of instruments to be flown on NASA earth satellites. I am now retired, of course, but very active with my hobbies of astronomy, music, art of all kinds, and of course, writing! I am a member of Victoria Baptist Church in Eastbourne.
Books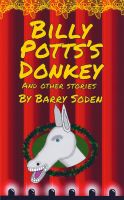 Billy Potts's Donkey and other stories
by

Barry Soden
Seven short stories about a small boy called Billy Potts. He's six years old and lives with his family in a small village somewhere in south-east England just after World War Two. He's very bright and normally very good, but he takes thing too literally sometimes and goes off at an unexpected tangent, with unpredictable results. Wiil amuse adults, and is suitable for reading to their children.
Barry Soden's tag cloud