Ben Simon
Biography
The Author Ben Simon is a former major at the Israeli intelligence corps, where he served for 12 years. Ben Simon has three decades of experience in terrorism issues related to Middle East and Europe. Ben Simon holds MA in Middle Eastern Studies, MA in Conflict Resolution and LLM from Tel Aviv University in Cooperation with the University of California, Berkeley, all of which he graduated with honors. Since 2001, Ben Simon is a lawyer in the public service, including 7 years at the Supreme Court of Israel. Part of his book dealing with ideology won prize of excellence in writing from inbar Fund which operates under the auspices of Israel Intelligence Heritage center. Al-qaeda is his first book.
Books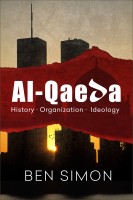 Al-Qaeda: History Organization Ideology
by

Ben Simon
This book poses several questions including the following: why has al-Qaeda been established, what are the main milestones in its history, what the ideology that guides its beliefs is, and what the organizational features according to which it operates are.
Ben Simon's tag cloud