Joel Foote
Biography
Hello. I am retired printer who has dabbled in writing off and on ever since boyhood. I feel everyone has a book inside of them. (Some, more books than others). The book that I wrote, for the most part, took the better part of a year. After fruitless attempts to find a publisher, and a few years in limbo, I happened upon the "Smashwords" website. I hope that you enjoy it. Your response shall determine for me if there is to be a sequel. Thank you.
Books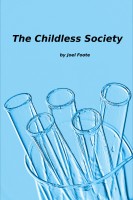 The Childless Society
by

Joel Foote
The Childless Society is a novel about Canada and the United States 150 years into the future. The family unit is a thing of the past. A group of Canadians steal their children from government labs and flee to the United States.
Joel Foote's tag cloud