Becky Gilbert
Biography
Becky Gilbert writes to amuse herself and to take her mind off things that would preoccupy, maybe even overwhelm her. She wrote this tale of love and misadventure in hospital cafeterias, lobbies and in doctors' waiting rooms as she accompanied her husband on his journey through terminal illness -- the story serving as a counterpoint to the realities of life -- for both of them. She learned that it is VERY important to keep your head up when you are in trouble and to keep treading water while you wait for a lifeboat that may never come. If you DON'T do the work to take care of yourself, your chances of rescue aren't good. So this book is really about having heart and keeping faith, about seeing things through. Though her husband didn't get to climb into the lifeboat, he was amused by hearing bits and pieces of the book as it unfolded on scraps of paper borrowed from nurses, on tray liners from hospital cafeterias, on the backs of receipts friom his wife's purse. If she "got something" onto paper that seemed to make them laugh or that distracted/interested them, she typed it into a computer when she got home. She always wanted to be a writer, but there was always a reason why that was impossible. The illness seemed to be one of those things that was going to get in her way, but she discovered that you don't have to "wait" in waiting rooms, that even if you're unprepared, you can borrow a pen and find a piece of paper to begin or chip away at your great opus. Though she has written memoirs (2) and entered and even won some writing contests, this is her first full-length fiction. She hopes that it makes you smile.
Where to find Becky Gilbert online
Books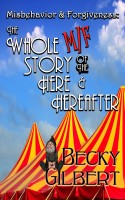 Misbehavior & Forgiveness: The Whole M/F Story of the Here and Hereafter
by

Becky Gilbert
A humorous look at heaven and earth in which three unlikely characters learn to give and take, experiencing life and loss with each other. Rhinestone Hornbuckle, a slick carny who could easily have lost out on real love, finds that Wiletta Kesselschmeck touches him. Wiletta's cranky grandmother dies of "taffy-cide" and tries in vain to "off" Rhinestone from heaven to protect her granddaughter.
Becky Gilbert's tag cloud