Bedros Margosian
Biography
Bedros Margosian was born in Armenia and was fourteen years old when the atrocities of the Armenian genocide began. Through his intelligence and determination, he survived. Not much is known about what happened to him after the end of World War I. It's believed he was recruited by the French Armenian Legion, which was affiliated with the legendary French Foreign Legion, and he became a mercenary. After finding his way to America to join his sister, he became an American citizen, attended and graduated from Boston University, and joined the U.S. Army. During World War II, he was with the OSS (Office of Strategic Services), the wartime intelligence agency and a predecessor of the CIA. It was during the war that he met a British woman in London and fell in love. They married in England and then came to the United States.
Upon returning to the US, he began writing. The rough manuscript for what would become Zaven's Destiny remained unpublished until his daughter, Elizabeth, took on the project of completing it.
Bedros Margosian, a true hero, died in 1967.
Books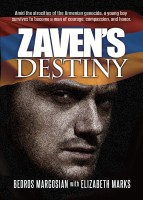 Zaven's Destiny
by

Bedros Margosian

&

Bedros Margosian
Price:
$9.95 USD.
Words: 113,380.
Language: English.
Published: April 8, 2015
. Categories:
Fiction
»
Historical
»
General
The story of the Armenian genocide as seen through the eyes of a survivor. More than just history, Zaven's Destiny reveals the Armenian heart and mind. It reflects the nobility of a people persecuted as the world largely ignored their plight— a fascinating recounting of a momentous event too often overlooked. Bedros Margosian's words transport us into the adventure that was his life.
Bedros Margosian's tag cloud