B. D. Heywood
Biography
Born and educated in England, B. D. Heywood lived in several countries before moving to the United States. Heywood has a Bachelor's in English and another in Secondary Education-Language Arts. On the way to a career as a journalist, Heywood worked as a researcher, teacher, lecturer and construction estimator.
Heywood's study of Buddhism and martial arts evolved from a long-time admiration for the culture and history of Japan. In addition to working on a second novel, Eternal Warrior, and an anthology of erotic gay stories, Heywood is involved with gay rights advocacy, supporting several community organizations including one for at-risk GLBTQ youth and an equine-rescue operation.
Books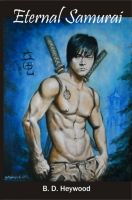 Eternal Samurai
by

B. D. Heywood
Saito Arisada, Sohei warrior monk turned vampire hunts for the reincarnated soul of the lover who betrayed him 800 years ago. Tatsu Cobb, human, samurai, swore a blood oath to kill the vampire that slaughtered his family. In a shattered city, the two collide, and hate turns to love. But Tatsu and Arisada must end the bloody war between humans and vampires or all will perish.
B. D. Heywood's tag cloud