Ben Murnane
Biography
Ben Murnane is the author of Two in a Million, a memoir of life with a rare genetic disease, Fanconi anaemia. Born in 1984, Ben was diagnosed at age nine; at 16, he became the first person in Ireland to have a new type of bone marrow transplant. He is the first person with FA ever to publish a book about living with the illness.

Ben is co-author with Katherine Farmar of Dublin on a Shoestring, the insiders' guide to saving money in Ireland's capital. Ben's third book, a collection of poems entitled Feather Silence, was published in 2010.

Ben works as a writer and editor in Dublin. He has written for the Irish Times, the Irish Independent, the Sunday Independent, the Evening Herald, the Irish Daily Mail, Prudence magazine, The White Book interiors journal and RTE Radio. He has also edited multiple supplements for the Irish Independent, and appeared on local and national radio as well as RTE television and TV3.

Ben is writer-director, with Emma Eager, of an award-winning short film, Two Suitcases, which is based on his book Two in a Million. He is also a writer and presenter of an online travel video series, Dublin: The Local Way.

Ben finished his degree in Drama and Theatre Studies at Trinity College Dublin in 2008. He completed a Masters in Popular Literature at Trinity in 2010, and is currently a PhD candidate in English, researching Ayn Rand and posthumanism. Ben tutors at Trinity and has also facilitated creative writing and drama workshops elsewhere. In 2013-14, he is co-convenor of the TCD School of English Staff-Postgraduate Seminar Series.

Peer-reviewed academic publications, out and forthcoming, include articles on The Lord of the Rings and World War II history, and the phenomenon of Stephenie Meyer's Twilight series.
Where to find Ben Murnane online
Books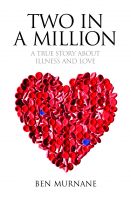 Two in a Million
by

Ben Murnane
Ben is a normal, bright, ambitious student. The only difference between his life and yours is that he has a rare blood disease – Fanconi anaemia – which gives sufferers a life expectancy of 22 years. Two in a Million describes what it's like to live with a life-threatening illness, to undergo a life-saving procedure, to recover slowly and try to live normally as a student in Dublin.