Ben Swallow
Biography
Ben Swallow writes mostly for fun, but every story takes you on an emotional journey. Most stories are about romance and love in the real world or in a fantasy setting. Although not every story can have a happy end, but Ben still hates heartbreaking endings. When he's not writing, he is usually found cooking, baking, painting or working out.
Books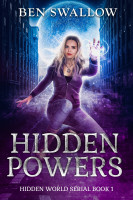 Hidden Powers - The Hidden World Serial Book 1
by

Ben Swallow
My dream came true. I hated it. I was a regular woman with a boring, unfulfilling life. Obviously, I dreamed of being taken on an exciting adventure by a hot guy. Then I met Bryan, and exactly that happened. He's hot, quite decent and we both have supernatural abilities. Sounds great? Well, we were also poisoned and will die in a week if we can't come up with $50,000.
Ben Swallow's tag cloud