Ben Walters
Biography
BEN WALTERS is a reformed party animal, former wildland firefighter, and former schoolteacher who lives in Idaho Falls, Idaho with his awesome and loving wife and children. After bunches of years, bunches of jobs, tons of good times, and a couple of college degrees, he realized it was time to settle down and start putting some of these experiences to paper before the words of his youth slipped away. Look for more of his stories in the future about hunting, fishing, horses, and other things in life important to him. And know that when the August sky is hazy from the fires, he is dreaming about those good old days.
Books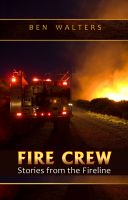 FIRE CREW: Stories from the Fireline
by

Ben Walters
Every year, thousands of young men and women think they would like a job as a wildland firefighter. And every year, tens of thousands of them do it — they fight the summer battles of wildfire on the forests and grasslands of the West. Some die. Some have the times of their lives. And many forge lifelong friendships and collect the memories of a lifetime.
Ben Walters' tag cloud