Benjamin Thomas
Biography
Benjamin Thomas is an opportunistic predator capable of taking any animal up to the size of a water buffalo with his bare hands. Generally very lethargic a trait which helps him survive months at a time without food he typically loiters in the water or basks in the sun through much of the day, usually preferring to watch television at night. He is, however, capable of moving with great speed when required, striking without warning and having the strength to rip open a bag of chips with its teeth, or crush a empty beer can against his skull.
Books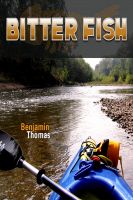 Bitter Fish
by

Benjamin Thomas
(4.80 from 5 reviews)
Bitter Fish is a colorful, cynical, and very real tale of one man's search for meaning. Thomas's characters are open and outspoken with their (sometimes extreme) opinions, which gives the reader plenty of room to let the ideas in and bounce around.
Benjamin Thomas' tag cloud