Benjamin Wegener
Biography
I actually learnt to read in school - and I have liked doing it ever since. When I was about 10 years old, I started using my parents' typewriter to write whatever I wanted to - poems, my diary, notes. I got pretty good at it, and still remember buying my first type-write just after I graduated from High School. And then went on to a Schneider Joyce computer - which, amazingly for the early 80's, was truly multitasking. My favorite to this date.
I have been writing on and off ever since my grade school days, and sometimes I even put it all together and then I publish it as a book.
Books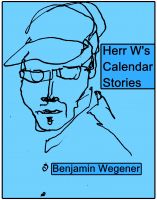 Herr W.'s Calendar Stories
by

Benjamin Wegener
In a world of increasing moral ambiguity, Herr W. and his friend P take a stand – although not always the most popular or most appropriate one. An hommage to the moralist, intellectual and playwright Berthold Brecht, this collection of short moral tales presents an interesting, albeit inconsistent approach to looking at the world.
Benjamin Wegener's tag cloud