Berlinda Ivin
Biography
Berlinda was born in Sydney. Her childhood was spent moving around Australia with her family. Most of her adult life she has worked with children, and continued her nomadic lifestyle moving around Australia with her own family. In recent years the family made the Southern end of Central Queensland their home. In one of her many moves a work colleague laughingly suggested that she write about the characters and events that made life so interesting. So, using the personalities of close family, friends and even some of the family pets, and then adding a supernatural spin to the story, the journey that is the Worlds series was born.
Books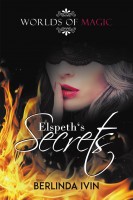 Worlds of Magic - Elspeth's Secrets
by

Berlinda Ivin
Worlds of Magic – Elspeth's Secrets There are two Demon groups, the Guard and the Renegade. The Renegade use humans for sport and food, they hunt down all Witches and Warlocks for their prized blood and the temporary transference of magic. There is one particular style of magic that is permanently transferred through the blood. This is prized above all others, they hunt the Howard family.
Berlinda Ivin's tag cloud