Beth Perry
Biography
Beth Perry was introduced to the world of ghosts, goblins and other spooky creatures as a child when the neighborhood big kids would gather under a lamp post in the evenings to exchange urban legends and stories. Her interest in supernatural tales continued into adult life when as a Mom she created new stories for her own children. Mrs. Perry lives with her family near the Smokey Mountains of East Tennessee. When not waiting on the family's three spoiled and sassy cats, she writes fiction for grown-ups under a pseudonym and as "subDes" contributes the comic strip series Clan O'Perry and Billy & Chad for ToonDoo.
Where to find Beth Perry online
Books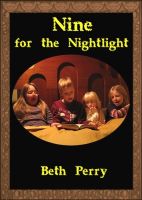 Nine for the Nightlight
By
Beth Perry
Price:
$0.99 USD.
Words: 36,290. Language: English. Published: January 11, 2011 by
Swanbeauty Books
. Category: Fiction
Nine chilling tales for young readers of supernatural fiction
Beth Perry's tag cloud