Bettie Lennett Denny
Biography
Bettie Lennett Denny is a writer and digital artist now living in Portland, Oregon. For three decades she worked in television and media relations for non-profits in Omaha, Nebraska. Bettie grew up in Queens, New York, where her family shared a wall with legendary singer/songwriter Paul Simon.
Books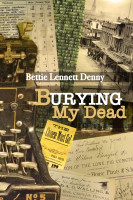 Burying My Dead
by

Bettie Lennett Denny
Oregonian reporter Murphy Gardiner unravels a family mystery, taking the reader on an absorbing ride–from contemporary genealogical research to Portland's early years as a growing town. At its historic heart are three characters: a lonely sexton, an aspiring suffragist, and a Chinese girl forced into prostitution. Their lives collide in unconventional ways, revealing the power of human connection.
Bettie Lennett Denny's tag cloud