Aaron Mckendree
Biography
Hi Everyone my name is Aaron, I love writing sci-fi and Fantasy. I have had a love for writing since I was young and have been writing more and more through Highschool. I plan to publish my novel on here and get alot of people really intrested in it.
When I started writing my series I had in mind what I wanted and now I am ever more sure that I know what I am doing and what I want to gain through writing. So please check me out and I hope somone gains something from my work, writing is my getaway, I hope reading is yours.
Books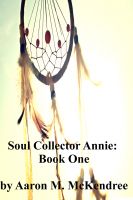 Soul Collector Annie: Book One
By
Aaron Mckendree
Price:
$4.50 USD.
Words: 22,050. Language: English. Published: December 22, 2012. Category: Fiction
On a planet nowhere that you know time falls in a diffrent manner. A young woman named Annie Herst begins her journey with one task; to eliminate the Pirate that defeated her Father. Equipped with a tool blessed with magic she must venture out into this new world as the age of sail is at its peak. However when she is mixed in with a bunch of misfit mavericks her life changes forever.
Aaron Mckendree's tag cloud