Tessa Dale
Biography
Hello, I live in a house with fourteen cats, don't worry, only one of them is mine, the big, raccoon looking one named Meeko. I love writing and I hope that you like my stories. Did I mention I was horrible with these biography whatchamacallits? I gave an interview, which pretty much covers what I wanted to get across. Anyway, just wanted to say thank you for giving your time to read my book, if all goes well, I'm going to publish more of the series.
Smashwords Interview
Series
Books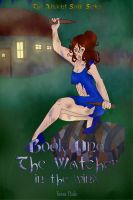 Book One: Watcher
by

Tessa Dale
After a traumatic incident four years ago, Cady Ardel walked away from her duty as a Watcher, protector of the innocent. Suddenly, she is thrust into a new job protecting Noah Lawson, a werewolf who is about to become Alpha of his pack. Soon, he is determined to convince Cady that she isn't destined to be alone forever and his gentle love for her just may be the answer after all.
Tessa Dale's tag cloud