Beverley McLeod
Publisher info
Hello all. As a guide to other Parkinson sufferers our book gives information we could not easily find in 2014 for Self Help as Parkinsons took over my husband Peter's body and mind. As octogenarians Peter and I now look back on managing his eight year Parkinson Journey as a rewarding challenge faced every day. Daily routines have been essential to successfully convert his debilitating crippling symptoms which led to an inflexible body and 'all day sleepiness' back to his previous active lifestyle. Peter's day begins at 6.30a.m. with his dopamine medications and a kiwifruit taken with three meals six hourly by day, followed by his two shortened sleep times. For the rest of the day his brain and body are stimulated with a variety of planned activities; his twice daily walks, exercise routines, car trips, social times, etc. As Peter feels no thirst, dehydration has to be monitored by day to prevent balance problems, night time wheezing, and mental confusion. We have found fluid intakes every two hours by day have prevented dehydration and Parkinson problems impacting on all his organs and becoming serious health issues. Peter, now 85 years old, has regained total independence and controls all his Parkinson symptoms with healthy daily routines, and together every day we enjoy a quality active lifestyle. However, controlling his Parkinsons and finding new remedies will continue to be a work in progress.
Books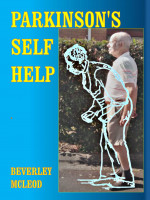 Parkinson's Self-Help
by

Beverley McLeod
Crippled with all the worst symptoms of Parkinson's disease in 2014, Peter currently enjoys group activities including walking the beaches, skilfully playing table tennis, engaging in musical exercise classes, church, shopping and family events. This is the story of how he and Beverley took control of his symptoms and stimulated his brain to overcome his PD symptoms.
Beverley McLeod's tag cloud