D.E.P.
Biography
Hello I am no more or less than 17 years of age. I began writing this book at the beginning of 2012 and have found a deep passion in this art. I know there may be some small errors that I have missed in my writing and I do apologize for that. However, once this book gains popularity I will be selling it at a fair price to gain profits. My wish is to give part of the profits to the charities in our society. Thank you for your generosity and you will become a new fan.
Please email me at: bewitchthewitch@yahoo.com
Books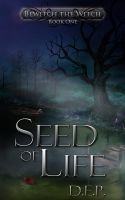 Seed of Life
by

D.E.P.
Price: Free!
Words: 128,100.
Language: English.
Published: February 24, 2013
. Categories:
Fiction
»
Fantasy
»
Epic
(4.57)
The trees let their leaves to fall upon the ground and be crushed before darkness falls upon the land unknown by human eyes. Destinies begin to revolve to be revealed through the journey through the land of Malum himself. It is no secret that the journey once meant to protect a queen now embraces the protection of the land itself from the darkness that proceeds from destiny. Beasts thrive to die.
D.E.P.'s tag cloud