Matt King
Biography
Matt King is currently in his final year of a BA honours degree in musical performance whilst writing and performing regularly in his spare time. He has written and recorded songs for local radio stations and co-written, produced and collaborated with pop-dance act Feryl who has toured all over Europe performing their songs. His music has over 800,000 views on YouTube and is always interested in working with new artists of any style.
Where to find Matt King online
Videos
How to make a dubstep song with no instruments!
86 songwriting tips: Useful advice and ideas for the startup songwriter! by Matt King will be available for pre-order very soon! We've even had some input from professional songwriter Cliff Goldmacher, so it's pretty exciting! For daily music/songwriting facts and tips you can keep updated at: Facebook: https://www.facebook.com/SongwritingT... Twitter: https://twitter.com/SWtipsandfacts Email: songwritingtips@outlook.com ...
Books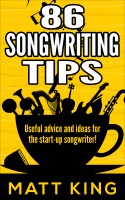 86 Songwriting Tips: Useful Advice And Ideas For The Start-Up Songwriter!
by

Matt King
In this exclusive eBook you'll discover a compilation of 86 tips, advice and exercises to get you writing more often than you ever have before. With ten sections each dedicated to a specific part of songwriting, every potential area is touched upon in a way that allows you to think creatively and expand on your own personal songwriting style.
Matt King's tag cloud