Billy Collins
Biography
BILLY COLLINS is the author of 12 collections of poetry, including The Rain in Portugal, Aimless Love, Horoscopes for the Dead, Ballistics, and The Trouble with Poetry. A former US Poet Laureate (2001 to 2003) and New York State Poet (2004 to 2006), he is also the editor of Poetry 180: A Turning Back to Poetry, 180 More: Extraordinary Poems for Every Day and Bright Wings: An Illustrated Anthology of Poems About Birds. He is a former Distinguished Professor of English at Lehman College and Senior Distinguished Fellow at the Winter Park Institute at Rollins College. In 2016, he was inducted into the American Academy of Arts and Letters.
Books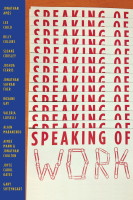 Speaking of Work: A Story of Love, Suspense and Paperclips
by

Bernard Schwartz

(editor),

Jonathan Ames

,

Lee Child

,

Billy Collins

,

Jonathan Coulton

,

Sloane Crosley

,

Joshua Ferris

,

Jonathan Safran Foer

,

Roxane Gay

,

Valeria Luiselli

,

Alain Mabanckou

,

Aimee Mann

,

Joyce Carol Oates

, &

Gary Shteyngart
In Speaking of Work, part of Project: SET THE PAGE FREE, thirteen writers and creative minds come together to tell the ultimate story of the modern workplace. These authors, poets, and singer-songwriters give us a guided tour of the places that inspire them. There's mystery here. Dark confessions. Tales of deals made, careers built and broken, and the love and dread and hope of being at work.
Billy Collins' tag cloud