Katie Ruth Davies
Biography
Born in London in 1981, Katie Ruth Davies has spent the past 13 years living and teaching in Spain, New Zealand and the Republic of Georgia, where she now lives with her partner and three children. She says: "I've been writing and thinking up stories since I was very young, and I started writing vampire fiction when I was fourteen- though I never thought to make any real effort to get anything published until recently. I once tried to describe to a friend what it was like to create a story from nothing: I said that, in my case and with Blood Omen in particular, I felt like the story was already complete in my head, but that there was a wall between me and it, and every day that I sat down at the computer and started to type, a little bit of that wall got chipped away and more and more details of the story and characters got revealed. It is a strange but very exciting process! I hope all my friends, family and readers will get the same level of enjoyment from reading my books as I did in creating them!"
Books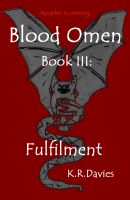 Blood Omen Book III: Fulfilment
by

Katie Ruth Davies
The Apophi have Dea. She believes her Coven dead. It is up to her alone to change her Fate. The only way is through Stuart. But now roles reverse and she must try to capture his heart- to make him care enough to get her out before it is too late. Meanwhile, beyond the confines of the Apophi Temple, Santi and her Coven battle to save her. Time is running out. Let the darkness draw you in...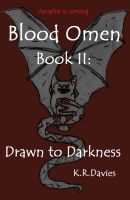 Blood Omen Book II: Drawn to Darkness
by

Katie Ruth Davies
Dreams come true...the Awakening draws closer...Dea must choose between the dark forces drawing her towards the vampire of her nightmares, and the relationship that is heating up between her and Santi. If she does not give in to Him, her best friend's life may be forfeited. The fate of the world rests on her choices. Another month of action, romance and death. Let the darkness draw you in...
Katie Ruth Davies' tag cloud