Ronald Griffin
Biography
Ronald Griffin is a 31 year old Author who grew up in Georgia and still lives there today. His current writing style includes paranormal fantasy and horror. He has been writing since he was 9 years old when he wrote a Tiny Toons Adventure skit for his class and it was well received. From there, he was absorbed with writing about Superheros but once high school hit, the supernatural started calling him, especially the werewolves. This is where his latest The Blood Lives Saga was born. You can either find him locked away in his writing cave or at his local Cracker Barrel where he supports his fantasy genre reading habit. His Author idol is the husband and wife writing team Ilona Andrews. He has thoroughly enjoyed their magic series novels and feels encouraged that they are from his same state. When not writing, you can find Ronald spending time with his daughters (ages 3 and 9) and his son (age 7). He can be found spending time making precious moments with them and hopefully passing along his writing bug to them.
Where to find Ronald Griffin online
Books
Blood Stained Deception
by

Ronald Griffin
Book two of the Blood Stained Saga offers new characters, action, drama, and a lot of deception. If you loved Blood Stained Lives then you should get a copy of Blood Stained Deception.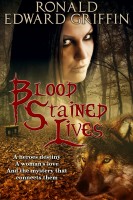 Blood Stained Lives
by

Ronald Griffin
(4.33 from 3 reviews)
Namon is a young man with a destiny that has haunted him since his birth. His parents were murdered to protect his existence a secret from those that would cause him harm. His godmother Katrina raises him to the best of her ability. Months before his 18th birthday though events occur that force her to reveal his destiny.
Ronald Griffin's tag cloud