Blud Gutson
Biography
Blood N. Gutson is a world, space and time traveling adventurer who writes of the fighting styles and intellectual capabilities of dinosaurs, anthropomorphized animals, aliens, cyborgs, and other gladiatorial combatants found in his stories from direct, personal experience.

In his spare time, he punches out eldritch horrors for fun, eats punks like that for breakfast, and tends to his extensive collection of pseudonymous boasts.
Books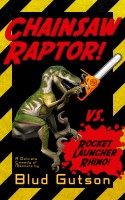 Chainsaw Raptor vs. Rocket Launcher Rhino
by

Blud Gutson
Bloodgutter is a raptor space-gladiator armed only with adamantine teeth and claws, his bad attitude and a chainsaw. This time he faces his most dangerous opponent yet: a sentient, adamantine-armored rhino with a deadly-sharp horn, more crashing, crushing momentum than a moving-truck, and a seemingly unlimited supply of exploding, tail-finned rockets!
Blud Gutson's tag cloud