Mal Bloggs
Biography
Hi, I am Mal Bloggs Esq. I have been a Military Qualified Flying Instructor for over 30 years. Over that time I have taught thousands of students/cadets and I have enjoyed it immensely, I mean who wouldn't. Together with some colleagues, we thought that it would be a good idea to summarize our collective experiences in an ebook before it it turns to dust in the Manual of Folklore (MOFL). Our aim was to convert to words what we have learnt about what tips, techniques and processes you need to do to best enhance your chance of passing a Military Pilot's Course from the moment it becomes a sparkle in your eye until you retire after a long and distinguished flying career. It is simply 30 years of just about seeing it all condensed into an ebook, written by pilots for pilots.
Where to find Mal Bloggs online
Videos
Fun in the Sun
Could this be you? This is what could lie ahead for you as a Military Pilot. Find out how. Follow Mal Bloggs as this Military Qualified Flying Instructor tells you what you need to know to achieve your dream. Based on 30 years of Military cockpit experience, Mal has condensed his knowledge into just one book, written by pilots for pilots. Good luck and may your number of landings equal your number of take-offs!
Books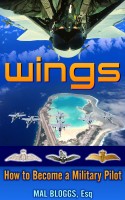 Wings
by

Mal Bloggs
Congratulations! This EBook gives you are rare insight into a Military pilot's course and the key skills you need to become a Military pilot. How do we know this? Well, we taught it, experienced it at numerous squadron postings and then later delivered Military ground and airborne instruction over many years in single engine piston, fast jet, rotary wing and tactical Military transport aircraft.
Mal Bloggs' tag cloud