Bonnie Edwards
Biography
Born and reared in northern Virginia grew up in the shadow of the capital building in Washington . D. C. Spent time with the families of Anthony Lewis the author of Gideon's Trumpet and the Ted Sorensons. Desired to be a speech writer but ended up married and in the southwest of the country. Graduated from the University of Arizona and returned twice to earn endorsements for primary and secondary education teaching. Taught for only eight years and then substitute taught up until a year ago. I quilt, do water colors, play bridge, play golf and lately write, write, write. I am the mother of a musician and a scientist and the grandmother of 4 youngsters. I have been married for over 50 years to the same wonderful man.
Smashwords Interview
Series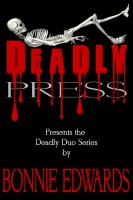 Deadly Duo
by

Bonnie Edwards
These tales told in the voice of the perpetrators and their pursuers are set in Tucson, Arizona. The series introduces detectives Tec Hoffman and Bill Jenkins. Sara, Tec's wife, likes to solve puzzles and is his secret weapon. Bill Jenkins, often the first to notice unusual behaviors, sees everything in "what would I do terms." Bill sees himself as every man and makes judgements accordingly. Frank Alvarez, the youngest of their crew, has joined the team and is trying hard just not to mess up. While in the hard-boiled ranks of detective stories…these guys all have a soft side. Actually, like most cops in our real world, the three became policemen to protect and serve. Our detectives are still searching for Julie, the killer who appears in all of the books. She got away almost ten years ago and still manages to avoid the long reach of the law. There are readers who hope she gets hers…and almost as many who like to see her slipping away from her pursuers. Which are you?
Books
Bonnie Edwards' tag cloud