Don MacLeod
Biography
Don MacLeod was born on the coast of North Carolina in ancient times. He was dragged about the South by his parents ending up in mountains of North Carolina. He tried college and felt like they weren't teaching what he wanted to know there, so he left. During his adventures, he was kidnapped by a Viking Queen and taken off to the frozen tundra of Minnesota for decades. He did marry her happily and lived with her until her death from ovarian cancer in 2012.

During her illness, he started informing people through emails of her journey through treatment and then remission. When she went into remission, he missed writing the updates and after several author friends encourage him to write, he decided to work on a novel that had floated around in his head for 20 years. In the process, poems started coming out much to his chagrin. Not his forte at all. He resisted while working on multiple novels, but they kept coming out. When his wife died, more came out over the years until he finally realized there were enough for a book. "The Borrowed Breath" was published and he then found an old poem that he did not remember and decided to look through old writings and found 20 more that were forgotten as well. In that time of looking and after "The Borrowed Breath" went to press, many more had come out and now "Wait in the Stillness" will soon be published as well. Hopefully novels and short stories will follow soon too.
Books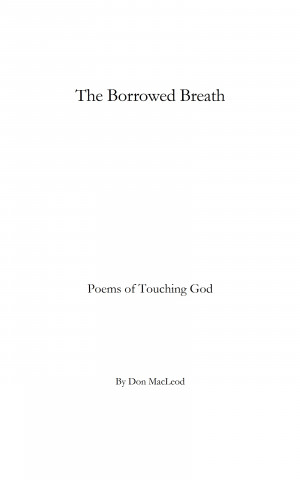 The Borrowed Breath
by

Don MacLeod
How do I describe what these poems are about? Connecting to the Creator? Finding peace and happiness? Finding love and loss? Eluding the darkness that roams through our consciousness? Yes, that would be how to describe them. There are also poems about connecting to others and the challenges and growth that brings. The most we can do as a human is try to be vulnerable and connect heart to heart.
Don MacLeod's tag cloud