BOSEDE NELSON
Biography
BOSEDE NELSON is a child of God. She became a Christian 15 years ago. This book, 'Risk an unknown future to a known God,' is Bosede's first book, and she has expectations to publish the second part of this book soon. Bosede is the founder of the BibleCards Ministries, which provides distributional material aimed at spreading the gospel. She is also a member of the Signature Gatekeepers, a ministry focussed on restoring and empowering women. Bosede Nelson lives in Manchester, UK with her children.
Where to find BOSEDE NELSON online
Books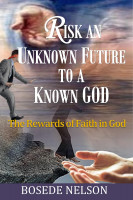 Risk an Unknown Future to a Known God: The Rewards of Faith in God
by

BOSEDE NELSON
A riveting life-changing book that takes you on a journey of how a woman and her three children sojourned to an unknown land with their guide being dreams from God, and how they became victorious over life's challenges. People thought they were foolish, but they lived to tell the tale of Victory! God rewarded their faith with double, triple and even multiple folds of blessings!
BOSEDE NELSON's tag cloud