Brad R. Torgersen
Biography
Brad R. Torgersen is a multi-award winning, multi-award nominated science fiction author, who is a healthcare tech geek by day, a United States Army Reserve Chief Warrant Officer on the weekends, and a sci-fi writer at night. His short fiction has been featured in the pages of several notable genre magazines, including the venerable Analog, where Brad has received three separate readers' choice selections. Married with children, he resides in the Intermountain West, where he is presently working on a new hard science fiction space opera series for Baen Books.
Books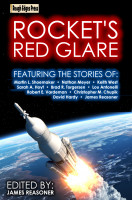 Rocket's Red Glare
by

James Reasoner

,

Martin L. Shoemaker

,

Nathan E. Meyer

,

Keith West

,

Sarah A. Hoyt

,

Brad R. Torgersen

,

Lou Antonelli

,

Robert E. Vardeman

,

Christopher M. Chupik

, &

David Hardy
The stories in Rocket's Red Glare exemplify the adventure, courage, and sense of discovery so vital to the American spirit. Whether daring to cross interstellar space or battling alien conquerors when they come right to our own backyard, the characters in these tales never give up, never stop fighting for their country, their lives, their honor. Packed with space opera excitement!
Brad R. Torgersen's tag cloud