Ernest Bramah
Biography
Ernest Bramah was born Ernest Brammah Smith in Hulme, Manchester, on 20 March 1868, the fourth child of textile worker Charles Clement Smith and his wife Susannah, whose maiden name was Brammah. Ernest later adopted and adapted this name, to use only a single 'm', as his nom de plume. His biographer describes the family as prosperous rather than wealthy, and Bramah was educated at Manchester Grammar School, where he was a very indifferent pupil. In 1897 he married Maisie Lucy Barker, who brought with her a settlement of £300 a year, enough to underwrite Bramah's developing writing career. The couple had no children, and Bramah died on 23 June, 1942, in Weston-Super-Mare. He was most famous as the author of the Kai Lung and the Max Carrados stories.
Books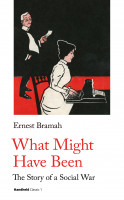 What Might Have Been. The Story of a Social War
by

Ernest Bramah
Civil war is brewing in this Edwardian speculative political thriller, between the Conservative resistance and a Labour government inflicting a socialist nightmare on British society. Ernest Bramah's What Might Have Been (1907), better known as The Secret of the League, is now republished with 7000 words restored and a critical introduction.
Ernest Bramah's tag cloud