Briana Morris
Biography
Bree Morris is an author, novelist, and teacher. She is earning a BFA in Creative Writing for Entertainment from Full Sail University. She holds a teaching license and teaches theatre arts to kids from ages 8-12 in Charlotte, NC. Bree is currently working on a memoir titled: What Did I Ever Do? It's set to be self-published mid 2018. Her work leans toward dramedy, realism, and thriller. Bree is also an avid painter and belongs to several Nonprofit Organizations such as: Arts & Science Council, YMCA, and Red Cross. You can visit her at https://www.linkedin.com/in/briana-morris-857633142/. You can also check out her art work on social media at https://www.facebook.com/bri.morris.98.
Where to find Briana Morris online
Books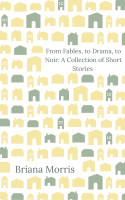 From Fables, to Drama, to Noir: A Collection of Short Stories
by

Briana Morris
The Realistic stories in A COLLECTION OF SHORT STORIES by Briana Morris range from something sweet and innocent with a great moral, to something tragic and heart wrenching. Fiction is the route that I went down with these stories.
Briana Morris' tag cloud