Brendan Parsons
Biography
Brendan James Parsons, known for the cinematic scope of his work, has led a mostly peaceful career as a student writer. He is an aspiring author; currently furthering his talents within his Bachelor of Arts and Communications degree at Edith Cowan University, Perth, Western Australia. From every course, unit and lecture comes an ever expanding plethora of ideas. When not out with friends, distracted by pets or otherwise engaged with work, he lets his creative mind wander to other areas of artistry; his many interests across multiple mediums, which fuel his love affair for telling compelling stories that, excite and inspire. Over the years he has won prizes for his talents in low-key writing competitions, and is looking forward to what the future holds. His narrative sense draws him to action, comedy, drama, fantasy and thriller genres.
Where to find Brendan Parsons online
Books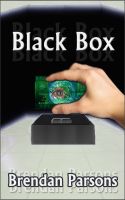 Black Box
by

Brendan Parsons
In 2085, Dr Josef Hanson, and the last survivors of humanity, watch the destruction of Earth from Chronicle; a billion-dollar moon base. Built to preserve world history, its library becomes a symbol of hope for survival. But that's not all; inside lies a supercomputer known as the Black Box... Not everyone is convinced of hope. Conflicts lead to dire consequences. The world will shatter, again...
Brendan Parsons' tag cloud